Was Happy Dancing yesterday!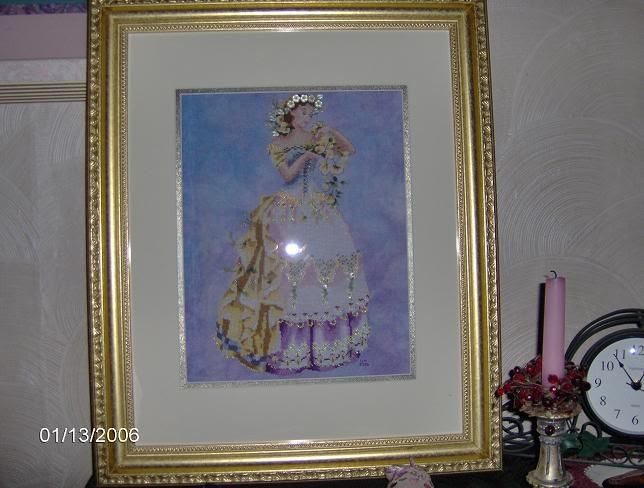 I really should have posted this yesterday, but never got that far. I finished Blossom Harvest! I'm so very happy with the frame, good thing I had Kayla (Oldest DD) there to help me choose. It took me close to two hours to frame her but I love the finished piece.

I did something naughty last night. I just had to. For any "brats" reading my blog, and you know who you are, I had to start "MIHTD" last night. I need to make sure before our SAL officially starts that I can do the one over one on 28 count. I didn't get very much done, but I really don't think I can put her down now. February 1st seems ages away! I know I will be forgiven and will post a pic as soon as I have more done. I need to check and make a list of what other SAL BRATS have a blog. It will be fun to get to know of you better and encourage each other. I know we have the BB to do that as well, but I am more inclined to write more in my blog.

Well, we have a three day weekend so the kids are home through Monday, so I hope to get stitching time in. I would love to have a picture at the end of the weekend to share, but it's probably not likely. We are going over BIL's tonight to visit and the DH's will watch the Patriots play football. It gets so stressful whenever they make it this far. And they have been doing that a lot the past several years!

Enjoy the weekend my friends!